Most of our massage clients at Living Health come in for our particular combination/style of massage. Whether you prefer a lighter touch, a heavier pressure deep-tissue massage, or prenatal massage our goal is to provide you with an hour to an hour and a half of completely stress-melting, send your mind to la-la land massage. As you completely relax listening to beautiful ambient sounds in the background, we'll use long slow Swedish massage strokes to completely zone you out. Then, as we find areas of tension in the body, we naturally break out into a deeper tissue therapeutic mode to relieve you of those "knots" and "sore spots". After a little serious work, we resume that slower, "send you out to the stratosphere" technique. Benefits of this approach include better circulation, improved mobility, relaxation, and an improved overall sense of well-being. Ahhh, we guarantee you will absolutely LOVE our massage.
Whether you're seeing one of our highly sought after Interns or an LMT, At Living Health Day Spa, we'll leave you feeling Great… All Over!
Massage types available: Deep Tissue, Swedish, Prenatal.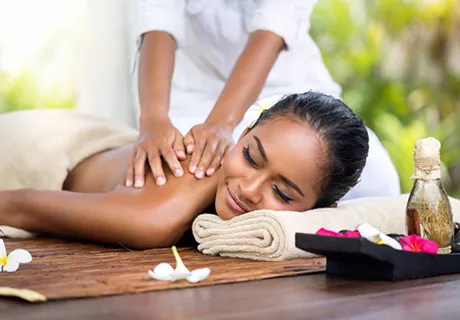 Deep Tissue, Swedish, or Prenatal Massage
Whether you prefer a lighter touch or a heavier pressure deep massage, our goal is to provide you with an hour (or hour and a half) of complete stress-melting massage.

If you get an aromatherapy add-on, you keep the bottle.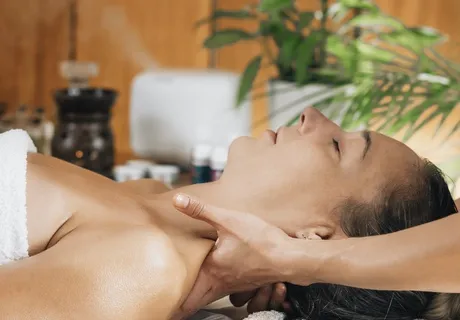 Aromatherapy Massage
Your essential oil of choice is massaged into the body and soles of the feet to create a sounder sense of relaxation, emotional balance, and peace.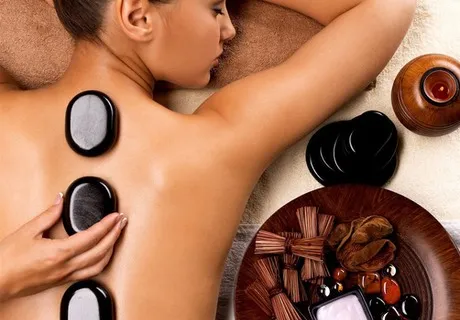 Hot Stone Massage
Receive a relaxing full-body massage combined with deep heat therapy. Smooth and polished basalt lava stones are heated and incorporated into the massage by placing them on chakra points. When removed, these stones lessen tension, and stress, and loosen tight muscles.
Ultimate Massage
Includes massage, aromatherapy, Dragonfire Cupping, and hot stones.

Cupping Blanket Add-on:
Adds 30 minutes to massage session.
Rainbow Balancing Chakrassage
In this luxurious massage treatment, we incorporate 7 unique essential oil blends. Each oil is vibrationally attuned to one of the Seven Basic Chakras and their corresponding colours, and each will nourish different aspects of your well-being. This massage invites relaxation and aligns the chakras so that your energy flow is more balanced.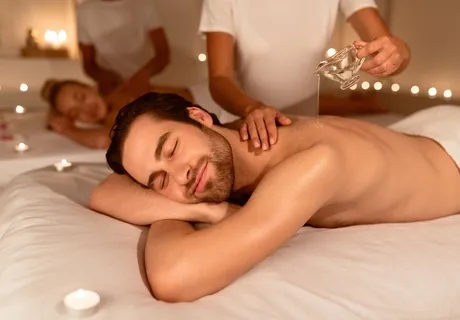 Couples Massage
A Couples's Massage at Living Health will put you both in a wonderfully relaxed state, together. Our Couples Massage is one of the main reasons we were listed as a 'Number 1 Spa in Memphis' and a 'Top 10 Spa in Tennessee' by USA Today and The Tennessean.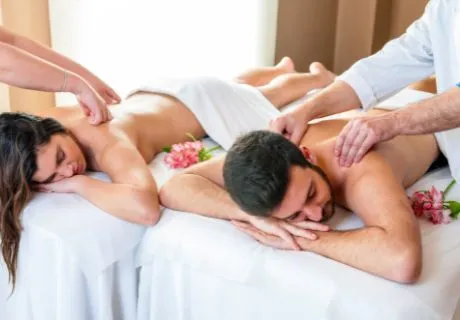 Ultimate Couples Massage
Includes massage, aromatherapy, Dragonfire Cupping, and hot stones.

Cupping Blanket Add-on:
Adds 30 minutes to massage session.
Reflexology Massage Therapy
This wonderful Reflexology/Zone Therapy massage focuses mainly on the feet, zeroing in on important spots that govern the body's reflexes and glands.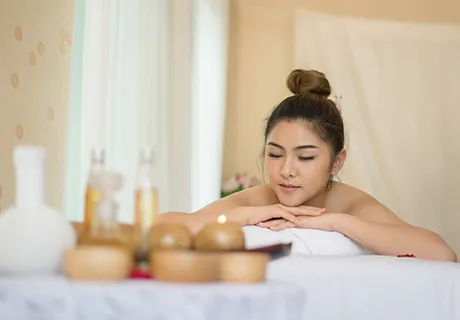 Massage Therapy Membership
Membership Benefits:

One 90-min Aromatherapy Massage per month
Unlimited Weekday Massages:
60 minutes – $69 per session
90 minute – $89 per session
Cupping – 20% Off
Facials – 20% Off
Products – 20% Off
DragonFire CuppingTM helps to relieve pain and inflammation from injury or chronic conditions including relief from deep muscular issues and reduction in muscle spasms. It also helps release and soften scar tissue and loosen post-surgery adhesions. It helps lift and stretch soft tissue to separate fascia and restrictions. It can also help increase the range of movement and flexibility in joints. By cupping, you'll be promoting healthy circulation and opening the energy flow of the body. You'll be moving stagnation and enabling the normal lymphatic flow. Cupping will also enhance any athletic training program to improve performance. It can reduce "Solid Bloat". And, the longer the session, the better the results.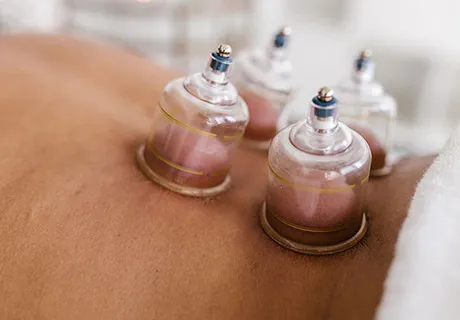 Dragonfire or Magnetic Cupping
Cupping increases blood circulation to the area where the cups are placed. This may relieve muscle tension, which can improve overall blood flow and promote cell repair. It may also help form new connective tissues and create new blood vessels in the tissue.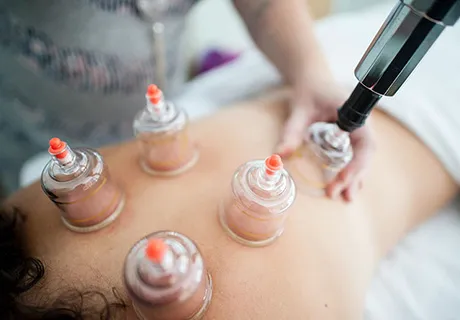 Blanket Cupping/Cupping
Add-Ons to Any Massage
Cupping Add-Ons add anywhere from 30-45 minutes to the massage and add $45 - $65 to the cost.
Facials & Microdermabrasion
It's impossible to put your best face forward unless your skin is absolutely glowing. With almost 30 years of esthetic experience behind her, Cissie Pryor performs miracles on your skin in a wonderfully soothing environment and we guarantee you'll feel just as good as you look. Cissie's facials are great for any type of skin and are fully customizable. Our Specialty focuses on concerns like aging or acne skin.
If you don't know which one to choose, an esthetician will be happy to meet with you for a complimentary consultation about which treatment is best for you.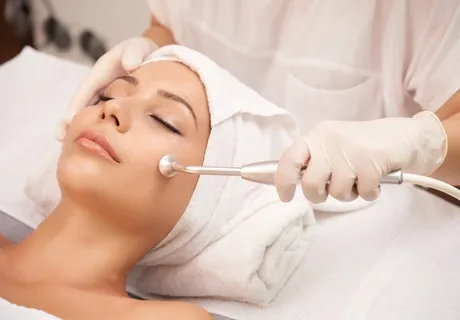 Microdermabrasion
This one hour procedure exfoliates skin with mild abrasives removing the top layer of dead skin cells to promote new cell production in the deepest layer of skin. Cissie also includes a customized hydrating mask to enhance the effects of this wonderfully restorative service.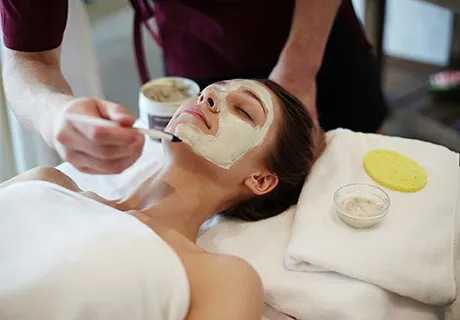 Repechage Biolight Facial
A revolutionary new treatment, the Biolight facial represents the latest in skin brightening science. Using innovative marine biotechnology and ground-breaking peptide research to rapidly reduce the appearance of uneven skin tone and hyperpigmentation due to sun, acne scars, and hormonal changes, the Biolight Collection enhances cell renewal and reduces inflammation to reveal a more youthful luminous complexion.
BioBrasion
Combines the wonderful exfoliating benefits of Microdermabrasion with the revolutionary new Biolight facial treatment that represents the latest in skin brightening science.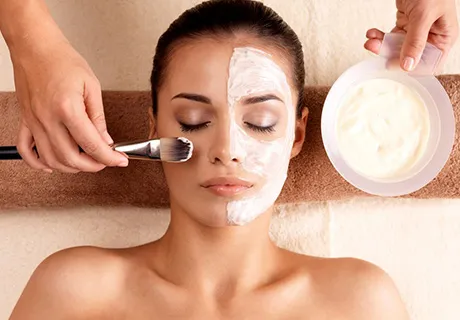 Repechage 10 Step 4 Layer with Deep Pore Cleansing
Our Premier anti-aging treatment which Cosmopolitan UK called '...the best facial of the century...' Experience layer upon layer of pure, fresh European seaweed to rejuvenate, tone and help firm the skin dramatically and long-term. An additional European deep pore cleansing and exfoliation rids the skin of comedones. This anti-aging treatment leaves your skin clean and refreshed with a visible difference.
Repechage Vita Cura Micropeel Firming Facial
Vita Cura® 5 Phase Firming Facial with Micropeel is based on Repêchage's exclusive combination of natural marine and herbal ingredients to invigorate, lift, and firm mature skin, providing advanced skin repair. The treatment provides an instant trigger to young-looking skin. Long-term benefits to preserve elasticity, improve oxygenation, and help prompt cell renewal.
Repechage Hydra-4 Rosacea RED-OUT Facial
The Hydra 4® Red-Out™ Facial with Micro Silver and Anti-Oxidants used for Hypersensitive Skin and To Help Calm Conditions Such as Rosacea. Repêchage has incorporated several new ingredients into their protocol that helps to calm redness and irritation associated with sensitive and rosacea-prone skin. In one clinical study, nearly every patient saw a visible difference in their skin after one treatment*.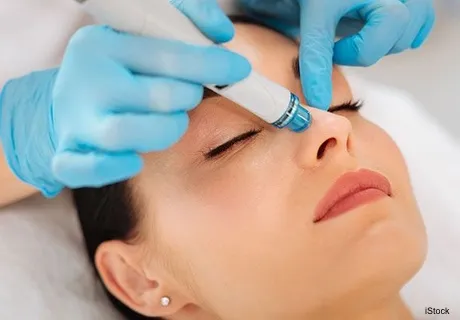 Repechage Hydra Medic Acne Facial
The Hydra Medic® Facial with Desincrustation Mask cleanses pores, purifies, and controls existing breakouts while helping to prevent new ones from forming. It also helps reduce oil from overly active sebaceous glands, while maintaining skin moisture balance. Our exclusive Desincrustation Mask – the first of it's kind – preps the skin for extractions, softening comedones and the solidified sebaceous material around the edges of the pore, making extractions easier to manage and minimizing skin trauma.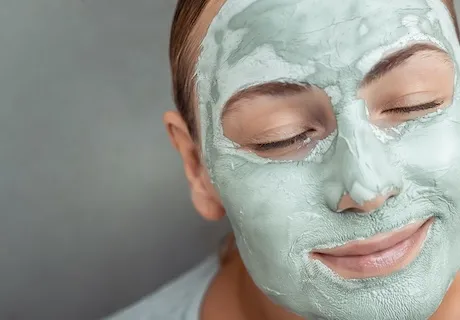 Repechage Seaweed Facial
Exposure to the sun, pollution, and daily grime can leave skin sensitive, dehydrated, and in need of radical protection. Anti-oxidant-rich seaweed to the rescue! The facial begins with a gentle cleansing, then milk and honey mask followed by a soothing massage with seaweed serum rich in vitamin C, minerals, and proteins. The treatment ends with a cooling and soothing fresh seaweed mask. Your skin is clean, refreshed, healthy and radiant.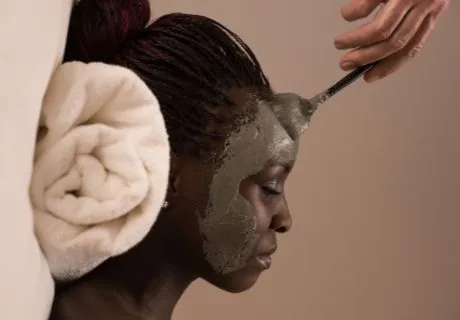 Seaweed Fusion Express Facial
Exposure to the sun, pollution, and daily grime can leave skin sensitive, dehydrated, and in need of radical protection. Anti-oxidant-rich seaweed to the rescue! The facial begins with a gentle cleansing, then milk and honey mask followed by a soothing massage with seaweed serum rich in vitamin C, minerals, and proteins.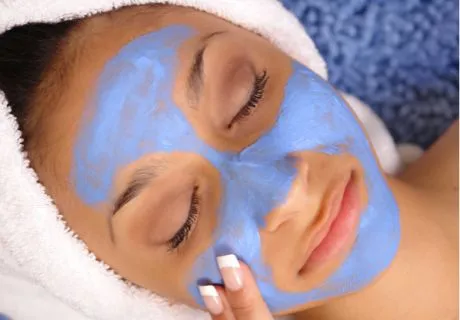 Repechage Hydra Dew Facial
Repechage Hydra Dew Facial will provide immediate 100% in-depth moisturization and superior anti-oxidant protection. Boosts moisture content, and will help combat hyper-pigmentations and wrinkles. Delivers maximum results in a minimum amount of time. Designed for dry skin.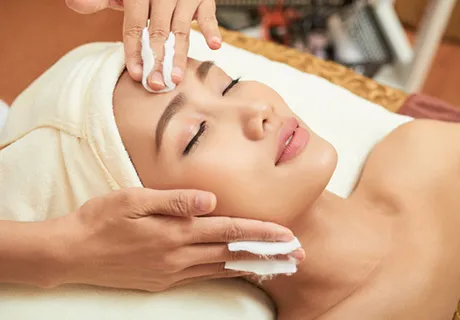 Derma Cleanse Facial
This facial is perfect for all skin types. Cleans, tones, and moisturizes the skin while a calming massage and deep cleansing help to hydrate and purify the skin, extracting blackheads and clearing clogged pores.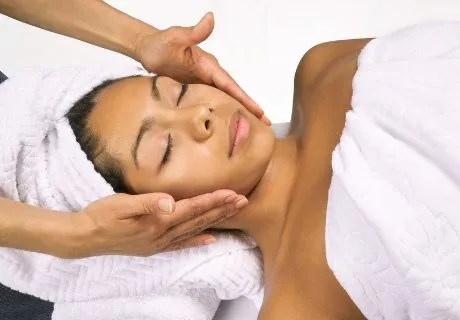 Rapidex Renewal Facial
A retexturing treatment for dry or sun damaged skin that will eliminate fine lines and even out skin tone. French seaweed provides a gentle marine hydroxy acid that is combined with natural alpha hydroxy acids to exfoliate and renew, leaving the skin supple and younger looking. Though immediate results are visible, a course of 6 treatments is recommended for maximum results.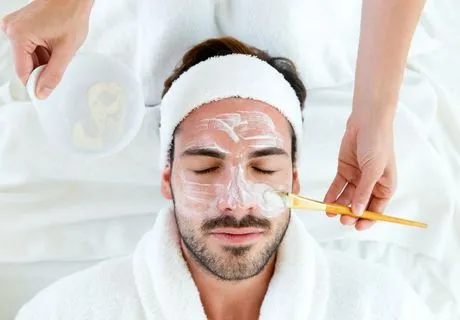 Men's Cleansing Facial
This facial is perfect for all skin types. Cleans, tones, and moisturizes the skin while a calming massage and deep cleansing help to hydrate and purify the skin.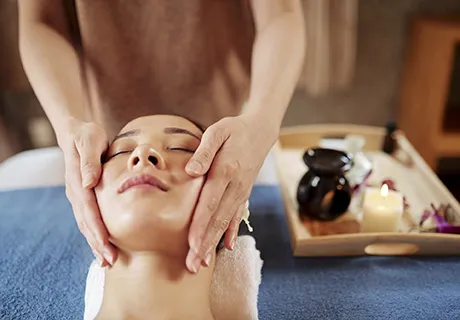 Acne Treatment
This procedure deep cleans the pores removing dead skin cells and leaving the skin smoother and firmer.
Back Cleansing Facial
Relax and enjoy as you are pampered like never before. Truly a facial for your back, this treatment includes massage, exfoliating body scrub, a stimulating back brushing, and deep pore cleansing. All this is followed by a soothing antibacterial mask. Perfect for teens, sports enthusiasts or anyone with problem skin on their back.
Repechage Opti-Firm Eye Contouring Treatment
Repêchage® Opti-Firm® Eye Contour Treatment is a professional treatment based on the latest advances in skincare and clinically proven ingredients that work to combat signs of sleep deprivation, aging, and environmental damage. Argireline® Hexapeptide is a unique peptide that is known to help reduce wrinkle depth. This power-packed peptide is now included amongst the combination of Gingko Biloba, Gotu Kola, Seaweed, Dipeptides and Tetra peptides known to help reduce the appearance of wrinkles, puffiness and dark circles.
Waxing – The process of hair removal from the root by using a covering of a sticky substance, such as wax, to adhere to body hair, and then removing this covering and pulling out the hair from the follicle
Threading – An ancient art of removing unwanted hair from the face or brows using silk threads… A very organic and clean way to make your eyebrows look beautiful and shaped.
Brazilian Wax
Brazilian waxing refers to the removal of all pubic hair, everything, front to back, while sometimes leaving a thin strip of hair on the pubis used by those who wear thong bikinis. Waxes that remove all of the pubic hair are known as a full Brazilian wax, full Bikini wax, Hollywood wax, or the Sphinx.
Bikini Wax
Bikini waxing is the epilation of body hair in and around the pubic region, commonly by females, by the use of wax. With the decreasing size of women's swimwear, pubic hair which may become visible around the crotch area of a swimsuit.
Leg Wax
Removal of hair from either half or the entire leg.
Back Wax
Removal of hair from the back. Depending upon the amount of hair on the back, the price may vary.
Arm and Hand Wax
Removal of hair from the arms and hands.
Underarm Wax
Removal of underarm hair.
Lip Wax
Removal of hair from the lip.
Chin Wax
Removal of hair from the chin.
Lip & Chin Wax
Removal of hair from lip and chin.
Full-Face Threading or Wax
Removal of facial (cheek, lip, chin, neck) hair using Threading or Waxing techniques.
Eyebrow Threading
Shaping the brow using Threading techniques.
Ear Candling/Waxing
Removal of hair from the ears by candle wax.
Chest Wax
Removal of hair from the chest region. Depending upon the amount of hair on the chest, the price may vary.
Revitalize and rejuvenate with our incredibly blissful body treatments, including the Peppermint Seaweed Twist/Seaweed Bodywrap or our Butter-body Hydrating Wrap.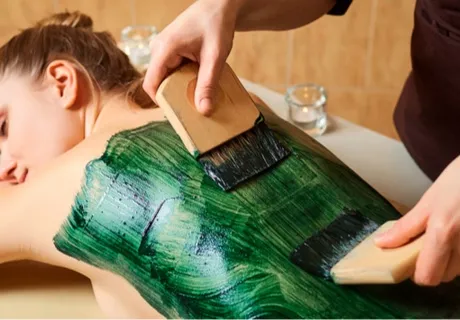 Seaweed Wrap
Seaweed offers the richest sources of mineral,trace elements and vital vitamins for skin hydration, tone and health. Rejuvenate the skin with a rich mineral bodywrap treatment that tones, improves elasticity and softens. See and feel immediate results.
Peppermint Twist/Slimming Anti-Cellulite Wrap
'One of the best skin treatments we've ever tried...' - Mademoiselle Magazine.
This slimming, detoxifying, body shaping treatment combines peppermint oil with fresh seaweed to stimulate, rejuvenate, and purify your skin. Experience the refreshing chill as your body responds to the cellulite reduction process.
Butter-Body Hydrating Wrap
Rejuvenate the skin with a rich mineral bodywrap treatment that tones, improves elasticity, and softens. See and feel immediate results.
Hypnotherapy & Meditation
Hypnotherapy is gentle, relaxing Behavior Modification treatment that provides a powerful and effective method for creating lasting lifestyle changes. This holistic approach is often referred to as personal and professional self-improvement.
Cissie Pryor's psychiatric, hypnosis, and professional nursing background specializes in areas that do not always qualify as medical or emotional/mental disorders. In the scope of health care services, these are some of the major things that most of us struggle with from time to time… anxiety, a serious desire to kick a habit like smoking, over-indulging, weight loss, increased job or sports performance or sometimes just dealing with plain ol' day-to-day stress. Cissie can work with past-life regression, chakra rebalancing, spiritual re-alignment, and relaxation. Unlike psychologists and MDs, a Credentialed Qualified Hypnotherapist may be one of the few experts specifically trained to work primarily with these types of lifestyle issues.
Hypnotherapy Session
A 90 minute hypnosis session typically involves a short Q&A to discuss areas of interest or difficulties or habits and desired results. After a thorough assessment, we undergo a wonderfully relaxing session utilizing a variety of Relaxation and Hypnosis techniques which enable you to master your own results and achievements. You'll come away from the session feeling 'Renewed and Refreshed'.
Hypnosis Follow-Up
Although usually not necessary after an initial consultation, some clients do decide to come back to discuss other issues or preferred outcomes. As we are already familiar with each other and the process, these sessions are quicker and easier for most client. Please allow an hour to relax, unwind and unload.
A quick and refreshing hand treatment that sloughs off dead skin cells to reveal softer, smoother skin, while adding much-needed moisturization.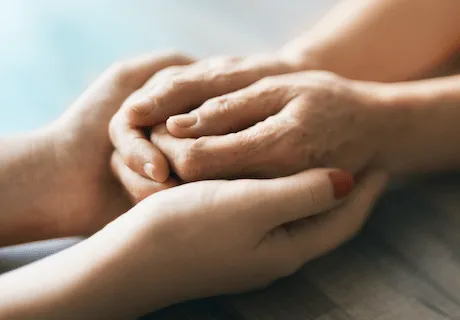 Cuccio Luxury Hand Treatment
Our Deluxe Italian Cuccio Hand Treatment comes with a seaweed soak that is filled with fresh seaweed from the coast of Brittany. It also includes a mango scrub exfoliation, a lavender moisturizer, and a paraffin hand dip. The nails are strengthened. Hands are pampered and relaxed. Instant, visible results of esthetically beautiful hands are the final result. You'll Love It!
Energy & Sound Vibrational Therapy
Our entire world is made up of energy; energy that is produced from vibration. Our bodies are all made of that same energy/vibration. The very atoms that build our bodies are made of even smaller subatomic particles that exist as individual packets of light. These particles of light are characterized by different vibrational frequencies related to their location and functions within the body. Illness and dysfunction are often related to disharmonies in these frequencies. Energy healing and sound/vibration therapies aim to realign these frequencies and restore positive energy flow, returning your body to a state of natural health.
GongSpell – The vibration of a gong is a powerful method for reducing stress. Known as a Gong Bath, the gong creates an ocean of sound that is profoundly relaxing; a state which activates the parasympathetic nervous system to balance the over-amped, over-taxed sympathetic nervous system. Water has often been used as an analogy for the rippling effect of the gong's vibrations, partially because our bodies are approximately 70 percent water and water serves to conduct sound waves. Like ripples created by a pebble skipped onto a glassy lake, the gong's sound gently reverberates over, around and through the entire body to calm, relax and soothe. Typically, the listener's heart rate slows, blood pressure drops, and breath is restored to its natural rhythm. The gong induces a holistic resonance in the body and a spontaneous meditative state in the mind, resulting in a sense of expanded awareness and wholeness.
At Living Health, we use gongs, Himalayan and crystal bowls, bells, chimes, and other ambient sound tools to help restore, relax or even re-energize the body. Clients boast of real relief from anxiety, depression, and the "chaotic" thinking that often accompanies those issues. Energy healing and sound therapy sessions are conducted in individual or small group settings. Participants remain fully clothed and either lie on a massage table (for individual or couples' sessions) or sit on a comfortable loveseat for relaxation. Treatments are non-invasive and are safe for all ages.
Gong & Himalayan Singing Bowl Session
Bathe your body and mind with the meditative harmonic sounds of Gongs and Bowls.
GongSpell - Gong Massage Meditation
This incredible experience combines a beautiful approach to the Gong Bath, Singing Bowl or Sound Therapy experience. Indulge yourself or a loved one with an Hour long transcendental experience of a GongSpell Gong Bath Sound Meditation, including Himalayan Singing Bowls on the table and/or your body. The combination of gongs, bowls and other ethereal sound instruments will send you straight into the stratosphere. Guaranteed to melt every single care!
roXiva Light Therapy is a revolutionary and innovative approach to achieving deep relaxation and meditation using white light and sound. With roXiva's expertly created sessions, you will experience effortless guidance into a deeply relaxing state or a profoundly creative one. This is achieved by tapping into the brain's natural ability to synchronize and follow external rhythms. Our brain operates through waves of neural activity that make this process possible. The frequency of these waves is determined by the condition of your body and mind. Altering the frequency of brain activity leads to a change in your state. The available sessions vary from tranquil and calming meditative voyages to potent psychedelic encounters without the use of drugs that can be compared to LSD and DMT and are truly otherworldly.
Red Light Therapy is a growing treatment option that has shown promise in addressing a variety of physical conditions, including those related to skin and hair. Often recommended by dermatologists, red light therapy is a type of photobiomodulation therapy that uses low-level light to stimulate cellular function. The wavelengths of light penetrate the skin and are absorbed by the mitochondria, which then produce more energy for the cells to use. This increased energy production, produced by light wavelengths, helps to improve cellular function and promote healing. Red light therapy has been shown to reduce inflammation and pain, making it an effective treatment for conditions like arthritis and joint pain. It also has a range of benefits for skin and hair. It has been shown to stimulate collagen production, which can help to reduce wrinkles and improve skin texture. It can also help to reduce the appearance of scars, including those caused by acne. Additionally, red light may stimulate hair growth and increase the thickness of existing hair, making it an effective treatment for hair loss.
roXiva Light Therapy
Experience an incredible experience in the form of a relaxing meditative journey to reduce stress, or a powerful drug-free psychedelic experience to enhance your creativity.
Red Light Therapy
Experience a reduction in inflammation and pain, while reducing wrinkles/acne/scars, improving skin texture and stimulating hair growth.
Aromatherapy is the science of using essential oils for their curative properties. Essential oils can be inhaled, applied to the skin, or diffused into the air. Therapeutic grade essential oils are very concentrated and quite potent, so they are rarely used alone or at full concentration. Rather, they are blended in custom combinations based on the intended therapeutic goals. Once inhaled or applied to the skin, the bioactive ingredients of the oils quickly enter the bloodstream where they can travel throughout the body to promote healing.
Additionally, certain essential oils promote healing through your sense of smell. The nasal passages are lined with sensitive nerve cells, bringing electrical impulses directly to the limbic region of the nervous system. The limbic system is responsible for regulating many of your body's essential processes – including hormone levels, metabolism, heart rate, digestion, and sleep-wake cycles.
Cissie Pryor, our aromatherapist, will conduct a thorough consultation to determine which of our 118 oils corresponds best to your desired goals. After creating your custom blend, she will teach you how to safely use the oils at home for maximum effect.
Aromatherapy Kit
Everything you need to get maximum benefit from your essential oils! Our complete aromatherapy kits include the custom blend of oils recommended in your aromatherapy consultation, as well as any inhalers or misters you may need. Your kit also includes recipes for bath salts using your oils and a massage oil blend made with jojoba oil you can use at home or at the spa during your next massage. Get 35% off when you purchase your kit during your aromatherapy consultation.
FREE Aromatherapy Consultation
After discussing your health history and goals, Cissie Pryor will select 5 to 10 oils to create a custom blend designed specifically for you. You can choose to purchase the oils separately, or as part of a kit for home use.

Free Consultation
Aromatherapy + Kit Combo
Maximize what you learn during your Aromatherapy Consultation with a custom take-home aromatherapy kit.
Living Health Day Spa, Lifestyle & Wellness Centre provides a fabulous spa experience. We specialize in packages ranging from 2-4 hours, relaxing and rejuvenating mind and body.
So why not 'Visit, Relax and Rejuvenate' today?!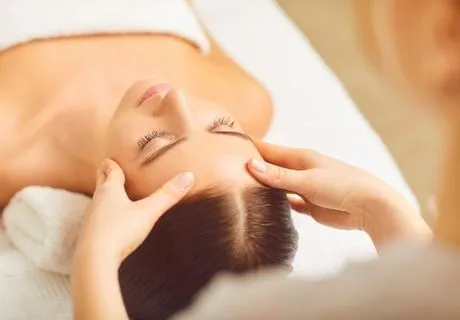 Massage/Facial Combo
This wonderful package combines a 60 Minute Full Body Aromatherapy Massage along with a Repechage 60 Minute Derma-Cleanse Facial. A wonderful way to ease into our spa & check out just how great we can make you feel.
2.5 Hr Session includes Aromatherapy.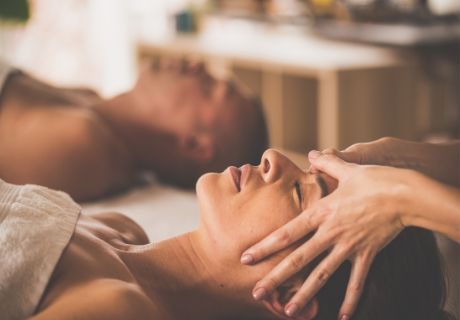 Couples Spa Day
Indulge you and a loved one with our Couples Spa Day. This wonderful package includes a 90 minute Full-Body Massage with Aromatherapy in one of our beautiful couples rooms and a 60 minute Derma-cleanse facial for two.
Spa Getaway
A Fabulous 90 minute massage, luxurious Cuccio Paraffin Hand Treatment and our slimming Repechage Peppermint Twist Bodywrap. Choose from deep-tissue, sports or relaxing Swedish massage.
The Sea-Spa Package
Undo summer's damage and pamper yourself with this luxurious package. Three and a half hours of Full-body 90 Minute Aromatherapy Massage, Paraffin Hand Treatment, Repechage Detoxifying & Slimming Peppermint-Twist Seaweed Bodywrap, and Cissie's Fabulous Repechage Seaweed Facial!
Microderm Spa Sampler
Fabulous 90-minute massage, Luxurious Cuccio Paraffin Hand Treatment, and our Slimming, Detoxifying Repechage Peppermint Twist Bodywrap. Finish off the session with Cissie's Magical Microdermabrasion and you'll be Fabulous from Head to toe!